Genre: Christian Living/Men/Memoir
Recommended!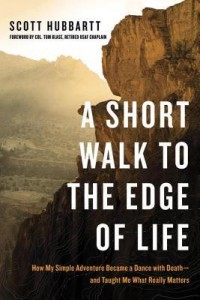 This is a powerful testimony of the author's experience getting lost in the intense terrain of the Peruvian Andes for five days with no food or water, and minimal equipment. His trip was intended to be a short day hike, spurned by his desire to trace the genealogy and locations of his Peruvian-born wife's family. As a decorated military veteran and experienced outdoors-man, he did not expect his journey to become a fight for survival–rescued only though the Lord's miraculous provision and guidance.
It is a small book (only about 160 pages), but one with a very valuable message. The beginning starts out a bit slowly–describing Scott's wife's genealogy, and his intentions in setting out (both which held my attention). Then it becomes a fast paced, very detailed account of his adventure (think of the yuckiest ways of finding moisture as a severely dehydrated person…the story depicts every minutiae: be aware if you are a reader who may not want to know…).
This book spoke to me–not so much because I enjoy hiking (although I do), but because his emotional journey to truly submit to God in humility and acceptance of God's will over his own desires is something I have struggled with as well. Scott's testimony paralleled my own feelings in the midst of a very different sort of trial, and was both inspiring and encouraging to me.
I received a complimentary copy of this book from WaterBrook Multnomah.