Genre: General Christian/Biblical History
Recommended.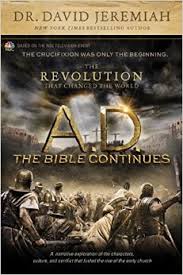 This is an interesting book in that it is based on the NBC show A.D. The Bible Continues (which I have not seen). It reads like a devotional commentary on the book of Acts (prefaced by a quick introduction of the Old Testament, and two chapters on the crucifixion and resurrection of Jesus to set the scene). Each chapter highlights stories that capture the human element of the Christian revolution along with commentary that connects to the contemporary audience.
I think this could be a helpful and interesting source for new/young believers to visualize the historical context of scripture (or anyone who is unfamiliar). There is basic theology included here and there, which I felt was well balanced for a multi-denominational Protestant audience. And the devotional feel and personal insight into the disciples' stories presents a very relatable and readable perspective. I also like the scattering of side-notes, which address interesting topics.
Overall, this is a pretty good overview of select moments from Acts, and I recommend it to those new to biblical history–especially teenage believers.
I received a complimentary copy of this book from Tyndale House Publishers.