Genre: Family Devotional Bible
Highly Recommended!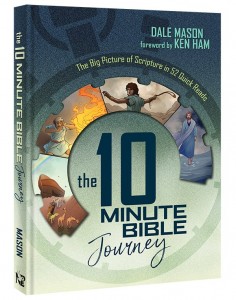 I've been asked several times recently whether I have a favorite Bible devotional for homeschooling, and can tell that this is going to be our new favorite. It goes through the Bible from Creation to "Forever" in 52 stories of the biblical accounts, plus an additional 8 bonus sections on select topics, and a 2.5 foot fold-out timeline.
Each devotional can be realistically completed within 10 minutes (I timed myself reading a few of them, with an average of about 6 minutes each in my "mom" voice). They also include enough depth and detail to draw out into an extended conversation if preferred.
I most love: 1) the fantastic illustrations, 2) the Creationist/apologetics perspective, which even includes commentary on related issues such as the Ice Age, 3) the narrations and details within each story line (date ranges based on Ussher's calculations, ages of characters at the times of each event, etc.) bring the accounts to life, 4) the historical chronology is thoroughly presented, even including the division of the Kingdom of Israel, 400 years of silence, and other stories that are often omitted from children's Bibles like Isaiah's ministry in the nude, King Josiah's reign, and the stoning of Stephen, 5) controversial areas of theology such as the charismatic gifts, and eschatological perspectives are neutrally presented–everything follows the Bible pretty closely without adding to the story, and 6) reading the Bible itself is encouraged with a plan of daily Scripture reading, as well as footnotes for further study, and suggestions for using this devotional within a small group environment (including discussion questions).
I do have minor constructive feedback from a Messianic Jewish perspective: I do not love the word "convert" as used in the account of "The Conversion of Saul," considering that his spiritual revelation opened him up to a born again experience, but not a new religion. He was more in line with the intentions of Judaism after recognizing Jesus as Messiah than beforehand in his legalism. Similarly, there is a negative widespread implication regarding the Pharisees. However, Paul considers himself a "Pharisee" even after becoming a Christian (Acts 23:6, Phil. 3:5), so the Pharisees are not "bad" in and of themselves, rather it was their hypocrisy and legalism that were problematic, leading them away from recognizing the Lord, rather than toward Him.
Overall, I'm very excited about this resource! You can find it at Master Books.
I received a complimentary copy of this book from New Leaf Publishing.