Genre: Historical Romance
Recommended.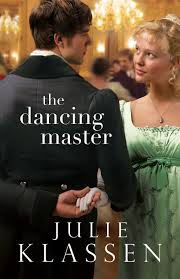 London dancing master Alec Valcourt is forced to relocate his family and business in the aftermath of a scandal. He moves his mother, sister, and himself into his uncle's rural, small-town residence of Beaworthy, Devonshire, England. But he soon learns that dancing has been prohibited in the town, and that his appearance and occupation has stirred a deep-set wound. Mrs. Amelia Midwinter, the matriarch and local beneficiary responsible for the taboo on dancing, must deal with her personal wounds most of all–especially as her daughter, Miss Julia, and the new dancing master begin to develop a growing fondness toward each other.
The story is reminiscent of Footloose, yet set in the charming English historical landscape of the early 1800s. At times the drama is almost "soap-opera-ish" as the character's deal with deep feelings amongst the uncovering of long-past scandals and deep secrets. But there is also a lightness to the writing as God's grace and love become mending threads, bringing healing, reconciliation, and fresh identity in replace of the painful memories and present conflicts.
This is the first of Klassen's novels that I have read, and I particularly like her writing, historical detail, and the depth of the characters' emotions. However, I would have liked a bit more depth into the stories of some of the supplementing characters (a couple of whom I favored over the primary protagonists). Also, the pace of the narrative overall could have been a bit quicker/smoother. That said, I am nevertheless curious to read Klassen's other historical novels, and found this to be an enjoyable and relaxing read.
I received a complimentary copy of this book from Bethany House.