Genre: Biography
Recommended.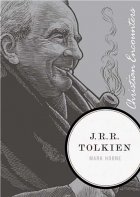 This biography of Tolkien's life, writing, and faith is certainly interesting, though not as impressive as I had expected. Tolkien had a hard life. He experienced the loss of both parents and many friends, and had to work very hard to earn himself an education and to make enough to support his family. This biography was successful in capturing the essence of his life and character, but did not go above and beyond that mark.
It is a well-researched snapshot into Tolkien's life. There could have been more regarding his Christian faith (especially considering this is part of the Christian Encounters Series). I am not convinced by this work that his faith was actually a driving force to his life and writing, though the book does describe him as having strong convictions regarding the Roman Catholic Church. Nevertheless it was certainly an appealing and worthwhile read, especially for its short length, and I feel I learned a bit about Tolkien's life and its reflection in his writing. I recommend it to anyone who wants to understand the basics of Tolkien's life, and although many details of his literary works are discussed, I think it would be easy to follow without being familiar with his writing.
I received a complimentary ebook as a part of the Thomas Nelson Book Review Blogging Program through booksneeze.com.