Genre: Juvenile Fiction/Action & Adventure
Series: Book Four of the Homelanders Series
Recommended.
I've really enjoyed Klavan's Homelanders Series and this final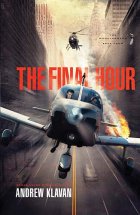 book is an excellent end to a suspenseful and action-packed story. Teen super-hero Charlie West is in one of the most dangerous prisons in the country for a crime he didn't commit. And amidst his struggle to stay alive in prison, he is also one of the only people left with knowledge of an upcoming terrorist attack on America. He struggles through his fear and circumstances in order to save the people in this creative and fantastic adventure.
Each book in this series brings a piece of the mystery and character of Charlie West. It's not a "deep" story so much as it is action-packed, but many important issues are brought up in the realms of faith, politics, violence, war and terrorism, patriotism, good versus evil, and even identity. As a mother, this is the kind of story I'd want to discuss with my teenagers after each book, and I am pleased that The Final Hour does have a Reading Group Guide for further reflection.
I received a complimentary copy of this book as a part of the Thomas Nelson Book Review Blogging Program through booksneeze.com.