Genre: Contemporary Fiction
Highly Recommended!
American business executive Ben Fielding seeks out his Chinese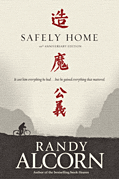 college roommate Li Quan in order to gain business strategies by living amongst the Chinese people. But Li Quan is a Christian involved with illegal house churches and Ben Fielding does not understand his former roommate's faith or the lengths he goes through to keep it. The story closely examines persecution and the gospel message while painting a comparison of the American and Chinese churches and lifestyles.
This is both an exhilarating story and a challenging glimpse into spiritual realities. I was encouraged and provoked by the story and especially valued the new insights emanating from the dialog. Safely Home is beautifully written and strongly felt.
I received a complimentary copy of this book as a part of the Tyndale Blog Network.