Genre: Futuristic/Supernatural Christian Fiction/Sci-Fi
Series: A Seer Novel, Book 3
Not Recommended.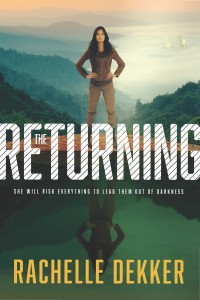 Two decades have passed since the Seers fled the Authority City, with Remko and Carrington forced to leave their baby girl Elise behind. Now the Authority City is under the manufactured "peace" of a vaccine inhibiting memories and causing robotic submission to the authorities; yet Elise is immune, and is beginning to wake up to her identity as a Seer, as a supernatural shift is set in motion, with both sides gearing up for their inevitable confrontation.
I enjoyed the first two books of the series: The Choosing, and The Calling, even though I had a slight theological concern with each of them. In this final installment, the spiritual/theological aspect is much more prominent. I really like the theme of identity as a child of the Father's, and how the inner struggle of light and darkness is portrayed. I also like the Seer's process of learning to work together, and embracing their various supernatural gifts.
However, there is a stronger spiritual theme of finding one's light within oneself that is not at all biblical, regardless of how many churches may embrace this form of religious syncretism. The Bible teaches that since sin was introduced into the world, humanity is born into sin, and then reborn in Jesus' death and resurrection. Jesus came to save the whole world; but we must receive his salvation in order to have the Holy Spirit inside of us. When an unbeliever looks into himself he will not find God, but must choose to receive God's calling, and die to himself.
Dekker's characters are entirely focused on the light within themselves, and in all things, as the source of their identity and power. As a result, when the characters suffer, they go within themselves and are entirely self focused in a transcendent chat of beliefs (in line with Eastern religions, New Age, or modern psychology despite the "Christianese" language) rather than suffering in the example of the Christian Apostles (or Jewish Patriarchs) by looking to God and sanctifying His name in the midst of affliction. Dekker's spiritual metaphor is clear as she constantly quotes Scripture (often out of context). I cannot advocate this harmful theology, despite some of the other positive spiritual motifs.
I also felt that the story itself was not as strong as it could have been. While there were moments of internal and/or spiritual struggle, the intensity of the suffering and conflicts were too shallow and unrealistic, the characters too often had overly simplified solutions to every problem, and the novel overall felt predictable, shallow, and preachy (of its poor theology).
I received a complimentary copy of this book from Tyndale House Publishers.