Genre: Spiritual Growth/Academic Theology
Recommended.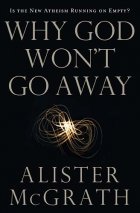 Why God Won't Go Away is a great introduction to New Atheism, how it was started, and what these particular Atheists believe. (There are several groupings of Atheists just as there are many sects of Christians and this book focuses specifically on New Atheism.) It is not too thorough–as I said, it's a great introduction–but this would be an excellent resource for the Christian who wants to understand the basics. It is clearly written, logically presented, offers many interesting and philosophical ideas for further thought, and has an exceptional list of both Christian and Atheist materials throughout the footnotes and Further Reading section. I would premise that this is not really a debate or even reply to New Atheism, rather, a critical view of their position and mission intended for the Christian audience (or any person looking into New Atheism from an outside perspective).
McGrath is a former Atheist, now Christian, who currently engages in public debates with prominent Atheists as well as being renowned for his scholarly theological work. I was particularly impressed with McGrath's kind and humble acknowledgement of the Atheist intellectuals despite his disagreement with their thoughts and pronouncements. I felt he was fair and rational in his critique and opinion that New Atheism is in decline. I look forward to reading his other books!
I received a complimentary copy of this book as a part of the Thomas Nelson Book Review Blogging Program through booksneeze.com.