Genre: Fiction/Suspense
Not Recommended.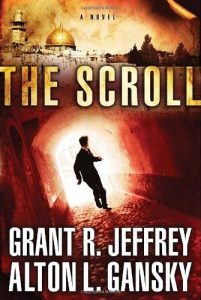 The majority of this story I actually did enjoy reading. It's about a team of archaeologists uncovering ancient biblical artifacts in Israel–and that part of it was really interesting.
The lead archaeologist and story hero, Dr. David Chambers, is introduced as a heart-broken agnostic, who has recently given up biblical archaeology to study in South America after losing his fiancée and Christian faith. When the opportunity of a lifetime forces David to dig again in Israel with his ex, he hesitantly takes it. And thus begins the potential for a suspenseful journey into emotional wounds, a search for God, and many physical obstacles–except that these things didn't happen; at least not in a way that catalyzed feelings of suspense, introspection, and empathy. The archaeological side of the story remained relatively interesting as the book progressed, but unfortunately, the character development stayed pretty basic, and the story became predictable and didn't really climax.
The final chapters were so bad (rushed, poorly developed, and trying to do too much) that my image of the book went quickly from "this is okay" to "this is terrible; what were they thinking!" There was so much potential in this story, but it just didn't work.
I received a complimentary copy of this book from WaterBrook Multnomah.