Genre: Christian Life/Inspirational
Recommended.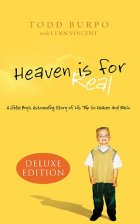 This a really sweet story of an almost four year old's near death experience: seeing heaven, meeting a grandfather he never knew and meeting the sister his mother miscarried whom he was also never told about. He didn't tell his parents about the experience all at once, and so his dad wrote the book in real time, describing the events that were taking place in their lives, and how young Colton shared his adventure with them piece by piece. This style of storytelling made it much more genuine, but I did find the timeline of Colton's experience a bit confusing since it was broken into short moments. I would be curious if Colton could (now that he's older) share his story fluidly, telling the order of events of what happened.
There are a lot of things Colton describes that the Bible doesn't specifically talk about. I found myself wondering about some of these things even after I had finished reading the account; a couple things I'm still thinking about. There is nothing, however, that blatantly contradicts scripture, and so I personally find the account more or less believable.
Regardless of whether people believe the story or not, it is an encouraging story of God's love for us, an interesting experience to read, and a great way to get ourselves thinking, reading the Bible, and asking ourselves about heaven and the things to come.
I received a complimentary copy of this book as a part of the Thomas Nelson Book Review Blogging Program through booksneeze.com.