Genre: Fiction/Suspense/Crime Mystery
Series: Book Three of the Triple Threat Series
Recommended.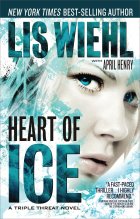 This is the first book I've read of the Triple Threat Series, and I enjoyed it. It was light reading, suspenseful, with interesting characters–and it takes place in Portland Oregon, which happens to be one of my favorite cities.
The "triple threat" is made up of Federal Prosecutor Allison Pierce, FBI Special Agent Nicole Hedges, and crime reporter Cassidy Shaw. These good friends are able to investigate and solve crimes, and also support each other through every-day-life.
Heart of Ice is unique from other crime mysteries in that the perpetrator, Elizabeth, is introduced from the beginning–as someone the other characters know well. There is plenty of suspense, however, since the reader has inside information into the killer's background and sociopathic mindset which the characters do not have. A few scenes were almost too intense/graphic for me, and since the book does realistically present situations of theft, murder, manipulation, arson, fraud and a bit of sexuality, I wouldn't recommend it to teen readers.
It's not obvious that this book is Christian fiction, though one character does have spiritual convictions (which are subtly displayed). Had I picked this up in an airport (for instance), I wouldn't have guessed it was Christian at all, though the language was clean, and I suppose the darker elements (murder, etc.) could have been even more graphic. I'm interested to see if there may be Christian themes in the series overall.
I received a complimentary copy of this book as a part of the Thomas Nelson Book Review Blogging Program through booksneeze.com.