Genre: History/Politics
Not Recommended.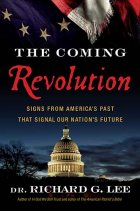 I was really intrigued by the title: The Coming Revolution, but I found the book to be dull and hard to finish, especially in the opening chapters. The strong political bias was overwhelming for me and really turned me off from wanting to read more. I'm tired of the Republican versus Democrat dissensions, and did not enjoy Lee's negativity toward liberalism (even though I'm somewhat conservative myself).
I did find some of the history kind of interesting–not engagingly interesting, but interesting enough to force myself to finish reading it. I studied at a public school and a very secular university, so the texts and perspectives the author cited were entirely new to me, despite our shared connection with Christianity. I may look further into some of his sources as I continue to develop my own perspective on America's roots.
I was also disappointed by the lack of evidence and enthusiasm regarding a coming revolution. It seems that Lee is using this book to persuade people to start the revolution he believes is necessary, rather than predicting that a revolution is actually underway–and to me, his case wasn't very enthralling.
I received a complimentary copy of this book as a part of the Thomas Nelson Book Review Blogging Program through booksneeze.com.