Genre: History/Apologetics
Recommended.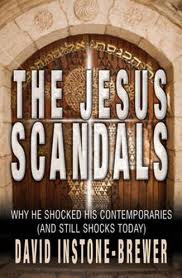 The Jesus Scandals focuses on the scandals surrounding Jesus as a way to validate and better understand Jesus and the gospel accounts. Since the Bible was written by Jesus' loyal followers, any negative or shocking events, teachings, or actions in scripture involving Jesus should reveal and confirm Jesus' true opinions and actions that were widely known and, therefore, not something the disciples could easily cover up. About 30 scandalous topics are discussed varying from Jesus' associations with particular uncouth people, to rumors that He was an alcoholic, to His teachings about Hell, and everything in between.
The book is split into three sections: scandals in Jesus' life, scandals among Jesus' friends, and scandals in Jesus' teaching. Each chapter (scandal) is just a few pages long and can be read independently from the others making this an ideal book for a personal devotional study or a group Bible study.
While the author does have clear opinions throughout the book, I enjoyed that the text included room for personal thought and research. I was able to stay engaged and interested in each topic even in the few cases where my own perspectives did not quite match the bias of the author. In fact, it's written in a way that even a mixed-faith discussion group could easily use each chapter to delve into friendly discussions or debates.
I received a complimentary copy of this book from Kregel Publications.