Genre: Romantic Suspense/Mennonite Fiction
Series: Road to Kingdom: Book Three
Recommended.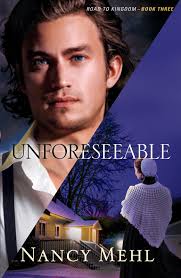 When a dead women is found within the Mennonite community of Kingdom, Kansas, matching the MO of an unidentified serial killer, the residents of the small town are startled. Worse, it seems the killer may be connected to the soon-to-be pastor, Levi Housler, which sets his fiancée, Callie Hoffman, on edge. As the mystery unravels, Callie struggles between her past and the present to define her true identity, and to solidify her trust in God and in her future spouse.
Unforeseeable is a romantic crime mystery that is just suspenseful enough to keep a reader's attention without inducing nightmares, or including gory or unsettling images. This is the first Mennonite story I have read (and I have yet to read any Amish fiction), so at first it was an adjustment for me to consider the differences in the characters' lifestyles as opposed to my own urban Californian culture. I found myself caught up in the beautiful simplicity of the Mennonite culture, and in the lives and emotions of the characters.
I have not read the first two books in this series, but found it was easy enough to follow the narrative and understand the characters. I also appreciated the pace of the story, which is a perfect balance of suspense, reflection, and light romance.
I received a complimentary copy of this book from Bethany House.