Genre: Romantic Historical Fiction
Series: Book One of the Edwardian Brides Series
Recommended.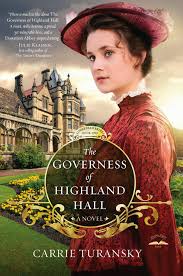 Julia Foster was a missionary in India until her father's sickness brought the family home to England, requiring her to find work as a governess to financially support herself and her parents. At Highland Hall, Julia quickly becomes like part of the family, catching the eye of the estate's master, Sir William Ramsey, as she attends to the children. Meanwhile, Ramsey struggles to save the estate from financial ruin.
The front-cover praise of best-selling author Julie Klassen compares this novel to Downton Abbey, and I fully agree with this assessment. I am not a super fan of Downton Abbey–I watched and enjoyed the first couple seasons, but have not recently been following the show. The Governess of Highland Hall is more engaging to me than Downton because the pace is a bit faster, and the characters are lovely. Turansky's writing is vivid. The story is predictable, but so sweet and delightful that it is a joy to read. The Edwardian era is also captured particularly well.
Moreover, faith is (appropriately) a large part of this narrative, as is the tension between social classes. There are definite moral and religious themes presented throughout, and while they are direct, I liked how the story enveloped these seamlessly. Julia's faith, especially, is a guiding element within her personality and decisions; it is the Christian faith in comparison to the materialism and class separation of the period that brings life to these characters.
I do think the ending could have been written a bit more powerfully. And, since this novel is complete within itself, I would have also enjoyed a clue to what the next in the series will offer. I am not left with any suspense toward the narratives to come, even though I thoroughly enjoyed the lightheartedness of this one.
I received a complimentary copy of this book from WaterBrook Multnomah.