Genre: Contemporary Fiction/Parenting
Highly Recommended!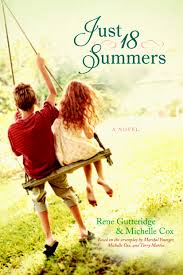 This is my new favorite book of the season! I was drawn it because I am a big fan of Rene Gutteridge. I was a little hesitant of the book itself, because I don't tend to read fiction about family life; but I loved it!! It made me laugh out loud in one scene, get teary-eyed in another, and overall encouraged, inspired, motivated, and heightened the love I have for my own young children and parenting endeavors.
I am not sure I would have been so wrapped up in the characters were I not a mother, but it really pulled on my heartstrings. I immediately connected and/or empathized with each character and situation, and I think other parents and grandparents will be moved likewise.
The premise is that four very different families are facing unique parenting challenges. There is a single dad raising a daughter after his wife's recent death, a couple pregnant with their first child, a family trying to have a "summer of fun" as their two eldest are leaving the "nest"–one to marriage, and the other to college, and another family prioritizing their outward appearances and opportunities while neglecting to spend quality time together. The lives of these families entwine with each other in a humorous and often emotional way.
The story was inspired during a baby dedication as Michelle Cox was touched by the pastor's sentiment that the couple would have only 18 summers with their little one, so to make them all count. This was the birth of the 18 Summers brand, and this story which Cox first made into a screenplay, and which has now been novelized by Gutteridge. A film is in the works, and I am excited for its release.
I received a complimentary copy of this book from Tyndale House Publishers.