Genre: Suspense/Espionage
Series: Red Returning Trilogy, Book Three
Recommended.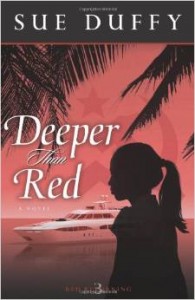 This final addition to this suspenseful Christian spy trilogy takes the reader all over the map to uncover who is behind the assassination of the Russian President, soon-to-be coup d'etat of the Russian empire, and of similar threats against the United States. The web of evil instigators is intertwined with several "normal" citizens who are forced to do what they can to save those they love, bring darkness to justice, reconcile their own hurts, and choose whom to trust.
I have not yet read the first two books, and felt I was missing out on quite a lot, especially in the beginning as I struggled to identify the primary from secondary characters and keep the locations straight. Along with this, however, was the obvious indication that there is real depth in the previous novels to be missing out on–that the series itself is a winner! The story is easy enough to follow without the additional background, but there are several sets of characters, most of whom appear to be familiar to the series and likely have so much more to them than I could recognize from this piece alone.
I was briefly nervous that a great deal of the narrative takes place at an occult spiritualist camp, having had experience in the occult myself that I do not like to revisit. Thankfully, this portion of the story is dealt with particularly well. Duffy acknowledges the true darkness and demonic spiritual root of the occult, and contrasts it with the presence of understanding Christian characters who can discern and reveal God's truth within the spiritual battle.
Another particularly meaningful aspect of the story to me was the emotional journey of a Jewish musician and undercover Mossad agent (Max) as he prepared to perform a concert at the Zeppelinfeld (Nazi Rally Grounds) in Germany. I would have liked even more emotional emphasis on Max and some of the other primary characters–but I have the feeling that this was mostly in the back-story–and overall, I enjoyed the fast moving action and poetic conclusion.
I received a complimentary copy of this book from Kregel Publications.