Genre: YA Fiction/Futuristic
Recommended.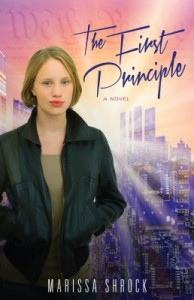 Vivica Wilkins is the sixteen-year-old daughter of a prominent governor, and presidential candidate, in the futuristic "United Regions of North America" where government control is out of hand (but not unrealistic). The population is controlled through pregnancy-preventing vaccinations, so that only women within a particular age range are propagating, with a high tax on families with more than two children.
Vivica is a hacker (mostly using her skills to change the grades of other students), but she otherwise is okay with the "system"–that is, until she discovers she is illegally pregnant, and is no longer sure she is comfortable with the mandatory abortion. The baby's father is a repentant Christian, working with an underground group of "Emancipation Warriors".
I love how this book deals directly with Christian issues and political scenarios within the futuristic, government controlled setting that is so popular amongst teen literature. The faith element is not subtle. The characters talk and question God and faith in a way that is great for young readers. And despite dealing with the difficult topics of abortion and teen sex, there is not a sexual or even emotionally-romantic vibe to the story, which I really appreciated as it kept the emphasis on the more important issues of politics and faith. There is a little bit of purposefully placed violence as the story moves rapidly in an exciting action-oriented mystery and chase.
This would be enjoyable for teens or adults because of the thought-provoking themes and action packed plot. Adult readers could finish this in a day or two. I also think it could be a great resource for parents and teens to discuss some of these issues together.
I received a complimentary copy of this book from Kregel Publications.