Genre: Historical/Biblical Fiction
Series: Dangerous Beauty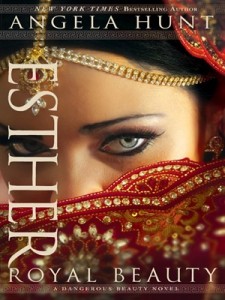 Recommended.
Happy Purim! Esther is one of my very favorite biblical heroines, so I've read several fictional renditions of her story. Angela Hunt provides a fresh look at the book of Esther. This unique narrative creatively pulls together one potential historical scenario, beginning with a young teenaged Hadassah, and sharing details beyond the biblical record based on the author's research (especially of the Greek historian Herodotus).
I did not love Hadassah's character in the opening chapters: she is immature and annoying, focused on girlish fantasies of living in the wealth of the palace as a lover of the King, and as one assimilated into the Persian culture. I set the book down after only a couple chapters because I was having trouble getting into it. But when I resumed reading, I began to quickly engage in the story. Esther soon becomes a very likeable queen, and the transformation in her persona makes her more relatable, and emphasizes God's work in her.
I also enjoyed the dual perspective that this narrative is written from: half from the perspective of Hadassah, interspersed with chapters from the perspective of one of the King's eunuchs, Harbonah. Almost all of the story is "new" and from a unique and interesting viewpoint, so the details stood out and caused me to think beyond the story to consider the characters (especially the motivations of the King) in a new light. I found it a particularly interesting twist that Esther desired the company and affections of the King, since I've typically heard the story differently–but realized that if God gives us the desires of our hearts, why not also give Hadassah the desire to fulfill her calling as the Persian Queen?
This was enjoyable to read, would be interesting to discuss in a group setting, and–because it did not have a strong message beyond painting the historical picture–has the open-ended gift of speaking to different people in different ways.
I received a complimentary copy of this book from Bethany House.