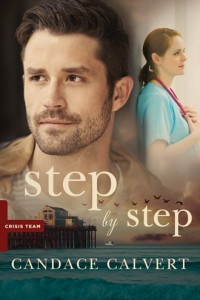 Genre: Romance/Medical Drama
Series: Crisis Team, Book 2
Recommended.
ER nurse and crisis team volunteer, Taylor Cabot, relocates to San Diego to get away from the painful memories of her late husband's death and to have a fresh start. She has her new life nearly in control with a tight schedule, diet, exercise plan, and new romantic interest, when she is confronted by two acquaintances from the past: a fellow nurse who used to work with her in Sacramento, and the crisis team chaplain who had comforted her after her husband's accident. The medical emergencies the team faces parallel the characters' own struggles as they each deal with their own crises–and as Taylor especially learns to open up her heart to pain, healing, and love.
I enjoy reading lighthearted Christian fiction when I need to relax, and this one met that need, plus had a little depth with portraying the chaplain's "ministry of presence," and the grieving process.
The characters were vibrant, the romanic tension was palpable, the numerous medical cases were interesting additions to the story, and I enjoyed that the setting happened to be within cities I am familiar with.
This is a great book for those who love medical dramas, and want a Christian perspective and appropriateness. It has a great balance between light and fun, and truthful and relevant. This is the first of Candace Calvert's books that I have read, and I would definitely read another.
I received a complimentary copy of this book from Tyndale House Publishers.