Genre: Supernatural Suspense/YA Fiction
Series: Harbingers, Cycle One
Loosely Recommended.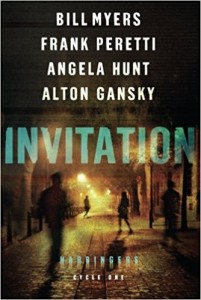 This first installment of the Harbinger series is made up of four novellas, each written by a different well-known Christian fiction author, and each from the point of view of a different character. The aim of the series is to write fast-paced, supernaturally quirky short stories that read like a TV series. While this is not necessarily "YA Fiction" it has a youthful appeal.
The four primary characters are: Brenda, a prophetic tattoo artist, Professor James McKinney, an atheist ex-priest, Tank, a soft-hearted football player with healing abilities, and Andi, a Jewish assistant to the professor, who loves patterns and numbers. These four are drawn together as unlikely friends to solve mysteries, use their gifts, and influence people.
These stories were a little strange for my taste, and I didn't know what to make of them, despite enjoying the overall concept. Also, not all of the episodes had a clear resolution.
The first episode involves a cult-like school, where the characters are trying to save a student from being brainwashed. The second deals with a disappearing house that haunts people (creepiness ensues). The third involves a plague of eye-less dead animals. And the fourth centers around saving a girl from another dimension. For the most part, the episodes were strange, but not dark, thus appropriate for most Christian readers.
I didn't really enjoy this, and probably will not continue reading the series, but I do think it could be enjoyable for an older teen with good discernment, who wants edgy Christian fiction.
I received a complimentary copy of this book from Bethany House.