Genre: Contemporary Fiction; Mystery/Crime
Recommended.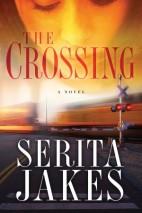 I really enjoyed reading The Crossing. The story immediately caught my attention and kept my interest. But it's not traditional light-hearted Christian fiction. The characters deal with real issues (Depression, Post Traumatic Stress Disorder, anger issues, drunkenness, high spending, adultery, etc., etc.) and are honestly portrayed. It's probably not the story for the reader who wants neat happy endings, but the depth and honesty of the characters and events is what makes the story so compelling.
A ten year old murder case is reopened in a small rural Texan community: a masked gunman had targeted and killed the cheerleading coach after a high school football game while the bus was stopped at the railroad tracks. ADA Victor Campbell is eager to find the killer and bring his wife (a witness and close friend of the victim) the closure she needs. Football player, Casio Hightower, now a police officer and assistant in the investigation, was also shot that day, and has a personal stake in finding the killer. As they investigate the murder that happened at the railroad crossing long ago, each of the characters are also at crossings of their own. Will any of them find THE cross and reconcile with the Lord, Jesus Christ?
I loved the style of the writing and the depth of the story. As the characters contemplate their lives and work through their issues there is lots of room for personal introspection. I look forward to reading more from Serita Jakes!
I received a complimentary copy of this book from WaterBrook Multnomah.