Genre: Juvenile Fiction/Science Fiction/Action & Adventure
Series: Book One of the C.H.A.O.S. Series
Recommended.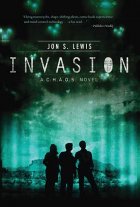 Invasion is a story of alien attacks, other universes, real-live comic book characters, super gadgets, and secret service agents, all mixed in with typical high school life. High school hero, Colt McAlister, discovers that his family has been involved in a secret military organization to defend the world against alien intrusions, and that the accident that killed his parents was no accident at all. Now it's up to Colt and his high school friends to help the agency and save the world.
Invasion is definitely geared toward teen readers, and even has a bit of teen romance (which I personally thought was well done), but certain adult readers may also enjoy it. In fact, I actually enjoyed reading it quite a bit. The characters were fun and personable, and the plot felt realistic despite being very imaginative.
This is the first book in the C.H.A.O.S. Series*. I appreciated how it is a complete story in itself, though I can't imagine readers not wanting to keep up with the series.
*Edit: I had mistakenly thought Invasion was the second in the series (and read the book with that mindset), but it turns out that Lewis' book I am Number Four is not related to the series.
I received a complimentary copy of this ebook as a part of the Thomas Nelson Book Review Blogging Program through booksneeze.com.