Genre: History/United States/20th Century
Highly Recommended!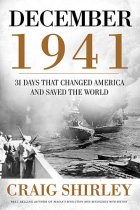 Lately I've been reading and watching historical documentaries as much as possible because I really feel that understanding history is helpful to understanding where we are and what's to come. This account of American history was especially insightful to me.
Shirley weaves together newspaper reports, human interest stories, and other research to thoroughly portray the mindset, recreation, dress, social and spiritual beliefs, American leaders and celebrities, and day-to-day lifestyle of Americans in the month of the Pearl Harbor attack–really, there is no area he doesn't touch on. And although the size of the book was a bit intimidating for me (535 pages plus an additional 100 or so of Notes and the Epilogue), Shirley writes in a way that is both accessible and captivating. I love how each chapter reflects one day from December 1941 (especially since it's so dense with knowledge that readers may not want to read more than a couple days at a time). And by reading this, I really felt a grasp on this time in American history and the generations before me.
This is a great addition to any library, especially for lovers of history.
I received a complimentary copy of this book as a part of the Thomas Nelson Book Review Blogging Program through booksneeze.com.