Genre: Allegorical Fiction/Satire/Spiritual Growth
Highly Recommended!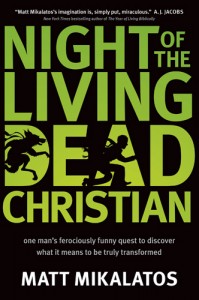 I'm not sure how to describe Night of the Living Dead Christian except that it's full-on satire, very unique, and very good. Mikalatos mixes elements of fiction and non-fiction, and even includes himself as a character within the story. The story follows lycanthropic (werewolf) Luther Ann Martin as he discovers what it means to be a Christian and how to become free of his animalistic tendencies. Vampires, mad scientists, an android and a congregation of zombies are also woven into the narrative.
Each of the monsters or monstrous conditions represent various problems or tendencies within human nature, and through this, Mikalatos demonstrates the process of salvation and reveals much about the state of the church. There is a congregation of zombies, for instance, that do not think for themselves and act just like their leader. They run around proselytizing, stuffing headphones of podcasts into their victim's ears, and trying to eat their victim's brains. I've met this sort of creature; perhaps you have too.
Sometimes it takes imagining the world in fantastic terms to understand the reality; I love how Mikalatos mixes both realms outright. There is also an excellent Discussion Guide and Self-Diagnosis Guide to Common Monstrosities in the back of the book, which would be really fun to discuss in a small group or book club.
(Also, I enjoyed the whole book, as I've said, but really got into it around sixty pages in; and I mention this in case some readers are tempted to stop before the good stuff starts: keep reading!!)
To get more of an idea of the author and this book check out this video:

It just so happens that Tyndale gave me a certificate for a free book to give to one lucky reader. Leave a comment below telling me you want it and I'll decide the winner in one week. This will be my first contest, so I'm pretty excited to have a free something to give away. 🙂
I received a complimentary copy of this book through the Tyndale Blog Network.