Genre: Fiction/Suspense
Not Recommended.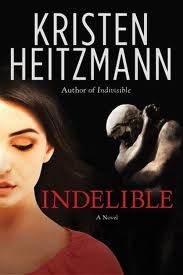 When former Olympian Trevor MacDaniel rescues a toddler from a mountain lion attack, his life entwines with the child's aunt Natalie. Natalie has a gift for seeing deep into people's souls–it's so powerful for her, she can hardly look at people and can only remove the images and feelings she sees through her gift of sculpting. Together, Natalie and Trevor's friendship helps each of them work through their wounds to find courage and peace. Meanwhile, strange and evil things begin happening, and Trevor and Natalie find themselves right in the middle of it.
I'm surprised so many people like this book. I just couldn't get into it. I did enjoy the major characters and the way they interacted, and Heitzmann did an excellent job portraying the personalities of the characters through their unique artistic and athletic abilities. But I otherwise did not enjoy the storytelling. The grammar and syntax were sloppy (and distracting) in many places (especially in multiple character scenes). I did not find the story suspenseful (the ending, in fact, was a bit anti-climactic). And I especially disliked her attempt to parallel the antagonist's journey with Milton's Paradise Lost.
After each chapter were mini chapters from the antagonist's perspective, each beginning with a stanza from Paradise Lost, then describing the villain's activity in a terribly written poetic prose. I think these short chapters intended to build the suspense and mystery that evil was on the move. Personally, I thought they were so poorly written that it killed any bit of suspense. I was distracted by the grammar and found many of the Paradise Lost quotes to be contextually misplaced. I've noticed that a handful of other reviewers greatly enjoyed the addition of Paradise Lost, which makes me wonder how many of them have actually read it!
I actually think Indelible could have been more successful as a romance novel. There were many romantic elements between Trevor and Natalie and also several of the minor characters; and the health (or dysfunction) of relationships in general was very central to the story line. Heitzmann did such a good job with the internal story and character development that it's unfortunate the suspense plot line, poor attempts to be poetic, and weird Paradise Lost references had to get in the way.
I received a complimentary copy of this book from WaterBrook Multnomah.