Genre: Spiritual Growth/Spiritual Warfare
Highly Recommended.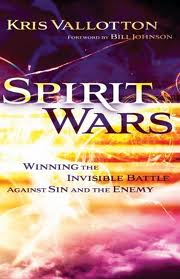 Spirit Wars is one of the best books I've read in awhile. It is short and simple, but I was deeply impacted by Kris Vallotton's encouragement, personal stories, the way he presents the truth of the gospel, and his insight into the supernatural realm.
Early on in the book, he uses the metaphor of a haunted house to show how many Christians are deceived into believing they are in a war with their flesh. As Christians, we know that ghosts of past residents do not haunt houses–rather, ghosts are demons that sometimes pose as real or deceased people, and those demons are the ones doing the haunting. Likewise, when we believe we are struggling against our sinful flesh, it cannot actually be our flesh if we've repented and become a born-again believer in Jesus. Our sinful nature died on the cross with Jesus and we were resurrected with Him, so any current struggle is no longer with the dead self, but with demons who try to impersonate our former state. Our flesh is weak, but it is no longer corrupt. I found this metaphor so powerful that it's been easier than ever for me to take every thought captive and live in uninterrupted freedom.
I also loved the way Kris describes our triune being (soul, spirit, body). A few years ago I was diagnosed with a chronic illness, and have spent so much energy on my body (eating, sleeping, exercising) that I hadn't considered that focusing my attention away from my body might be just what I need. For the last couple weeks, I've made it my priority to laugh more, find fun things to do, and to be a bit looser with dealing with my body (still being mindful of good health, of course). It's been going great! Kris's situation and stories are completely different from my experience, and yet his stories and teaching triggered me to think outside the box so that I could better hear what the Holy Spirit was guiding me to do. I appreciate how his writing is so conversational and easy to relate to–despite the differences in our circumstances.
There are other books that deal more thoroughly with deliverance/sozo ministry (I particularly recommend the author Neil T. Anderson, as many of his books encouraged me after my own deliverance experience), but Spirit Wars is special in that it's clear, concise, and accessible, without lacking in depth or impact. I think every Christian could benefit from reading this book.
I received a complimentary copy of this book from Bethany House.