Genre: Biography/Inspirational
Highly Recommended!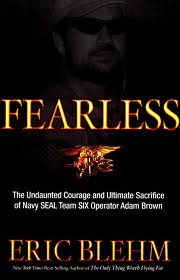 Fearless is my new favorite biography. Navy SEAL Operator Adam Brown was a fascinating and inspiring person and Blehm's writing captivates Adam's story thoroughly and excellently. I was quickly caught up into the details and struggles of Adam's early life, and inspired and awed by his motivation, boldness, and extreme love for God and life in his later years. Adam Brown's progression of faith and his testimony in Jesus Christ is, in fact, a large part of his story and one of the aspects I deeply connected with.
I also enjoyed the glance into the inner workings of the Navy SEALs and was surprised by how much the author was able to publicly share regarding various missions and SEAL life. I've never been a part of a military community or given much thought into military life, and I felt that this book helped me to consider that part of my country in a deeper way.
This is a very action oriented story with a good amount of humor, but also a very emotional one–and I'm not a terribly emotional reader. I found that although I was prepared for Adam's heroic death to be described at some point within the book, I couldn't help but sob when the events unfolded. It's a touching biography and will especially be appreciated within the Christian community.
I received a complimentary copy of this book from WaterBrook Multnomah.