Genre: Historical Fiction
Recommended.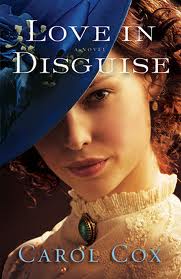 Love in Disguise is an excellent book for a lazy day of reading. It's lighthearted with elements of mystery and romance, and is set in the charming time period of the late 1800s in a small Arizona mining community.
Unlikely heroine, Ellie Moore, becomes desperate after unexpectedly losing her job and pretends to be an older wealthier woman in order to be hired as a private detective. Although she has no undercover experience and little confidence, she creatively uses her skills in order to impress her new employer and solve the mystery of the silver thieves. But while working to undercover the mystery at hand, she also uncovers many facets of her own identity and learns to embrace her God-given identity.
This is a sweet book, with fun characters, a good amount of mystery, creative plot twists, and just enough depth. Readers who enjoy Christian fiction will find it delightful and refreshing.
I received a complimentary copy of this book from Bethany House.