Genre: Fantasy
Series: Book Two of the Books of the Infinite Series
Highly Recommended.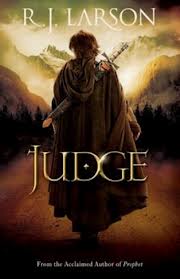 Judge is Christian Fantasy at its best. The writing is reminiscent of Tolkien's style, but more closely parallels the history set forth in the Scriptures.
Destruction is about to come on the city on Parne, but the Infinite calls Prophet Ela Roeh to warn the citizens and urge them to repent and turn their hearts back to Him. Meanwhile, Tracelander Judge, Kien Lantec, is called to step out of his usual role, and prophesy over a city he does not particularly care for. Kien's feelings for Ela complicate matters as he worries about her while also discovering his own new calling and purposes. Ela, likewise, tries to stifle her feelings for Kien in order to remain focused on the Infinite and her very dangerous mission. It's a story of romance, action, and suspense, discretely laced with biblical and theological insight.
The story also explores the biblical positions of Prophet and Judge, along with the relationship between the people and their Creator, the Creator's love and faithfulness amidst disaster, and even the supernatural gifts that are given to those who serve Him. The story has tons of biblical parallels, which I appreciated. And I also found it easy to identify with the characters, and the honesty of their thoughts and experiences.
I do recommend reading this series in order, as I found it a bit difficult to keep the many characters straight in the few few chapters, having not yet read Prophet (the first in the series). I look forward to reading the novels to come.
I received a complimentary copy of this book from Bethany House.