Genre: Children's Books/Bibles
Not Recommended.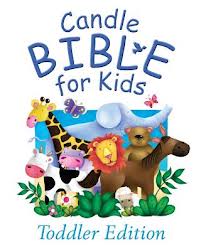 The quality of this Bible is really nice. I especially like the soft, hardback, "bubble" cover. And the pictures are really cute, with bright, toddler friendly, colors and caricatures.
Unfortunately, the book did not hold my toddler's attention. He liked some of the pictures, but was very restless every time we attempted to read the story, and asked to read other books instead. He often does enjoy biblical story books, so I was surprised he did not connect well with this one. He did not want to read even one of the very short stories all the way through, despite several tries on different days.
My parent perspective of the book was not much better. This "Bible" seems typical of any other collection of Bible stories. It covers most of the more popular Bible stories, from the creation of the world to Jesus' ascension. I liked that each page had only one sentence, as long paragraphs are hard for toddlers; and I enjoyed the illustrations, as I mentioned earlier. But, otherwise, there was nothing to make this book stand out to me.
I received a complimentary copy of this book from Kregel Publications.