Genre: Historical Fiction
Recommended!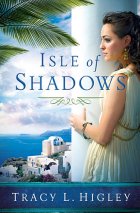 Isle of Shadows is set in ancient Greece. Tessa of Delos serves as a hetaera (educated prostitute) to a powerful man; and when he dies, her welfare is threatened. As the sole witness to his death, she will either be held responsible for his death, or she will be sent to serve an even worse man. Desiring both physical and emotional freedom, Tessa searches for a way to escape. But as more complications arise, she finds herself with only two allies: a Jewish servant, Simeon, and a mysterious Greek man, Nikos.
This story is actually one of a few books inspired by the author's interest in the Seven Wonders of the Ancient World. Isle of Shadows centers on the Colossus of Rhodes, a statue to the Greek god, Helios, which was destroyed in an earthquake. In fact, the book was first published as, The Shadow of Colossus.
I enjoyed both the story, and the historical element. I really emphasized with Tessa's character: she reminded me a lot of how I felt before I encountered Jesus. The dynamic between the characters, and the swift movement of the story also made for a captivating read.
An added bonus is the author's interactive website, which provides pictures and videos of Rhodes, Greece, so readers can better envision the location and historical context of the story. I anticipate more from this excellent storyteller.
I received a complimentary copy of this book as a part of the Thomas Nelson Book Review Blogging Program through booksneeze.com.