Genre: Wisdom Literature/Christian Life
Highly Recommended.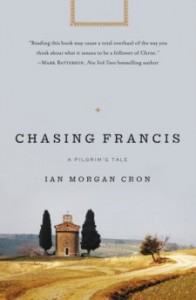 Evangelical mega church pastor, Chase Falson, has lost his faith after the death of a young girl in his congregation. His learned answers for why things happen as they do, who God is, and what God wants from the church are no longer enough for him. After an embarrassing emotional breakdown mid-sermon, he is encouraged to take time off from church to gather himself. He uses the time to visit his Uncle Kenny, a Franciscan priest in Italy, who takes him on a pilgrimage through the monumental places and moments in the life of Saint Francis of Assisi. Along his journey he questions his own faith, what the contemporary Christianity should look like, and how the church should evangelize in this postmodern age.
Saint Francis of Assisi contributed so dramatically to Christianity that most Christians have probably heard something about him whether or not they realize it. He is, for instance, the one often quoted for saying, "Preach the gospel, if necessary, use words." Cron illustrates St. Francis' major beliefs seamlessly through this creative mix of fiction and non-fiction, story and biography. As a seminary student, I appreciated the references to many of the people and historical moments I have studied in various theology courses. Cron's well-researched narrative covers quite a bit of space concisely and gracefully.
More importantly, the author's natural humor (possibly offensive to very conservative Christians at times) helps the story flow fluidly. It is difficult to write a fiction/non-fiction mix well, but I really enjoyed this one. It is a fun read, with great characters, and the added benefit of teaching a bit of history and theology.
Lastly, the questions naturally addressed through the pilgrimage tale are so important to the church at this time. Whether or not the reader agrees with the position of the author (an Episcopalian priest and advocate of St. Francis' lifestyle), the narrative will propel the consideration of these important issues, and is outlined to provide an excellent starting point for discussion. My own perspective and background are very different from the author's, and yet I appreciated his presentation of both Francis and his critique of the condition of many portions of the contemporary church. Also included is one of the most thorough study guides I have encountered, making it a great resource for a Bible study or book club.
I received a complimentary copy of this book through Zondervan Publications.