Genre: Christian Life/Women's Issues/Apologetics
Highly Recommended.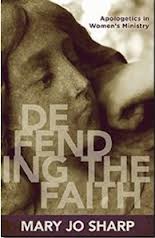 Female apologist, Mary Jo Sharp, demonstrates how apologetics is not simply defending our beliefs or arguing with adverse perspectives, but in learning how to think for ourselves to understand what we truly believe about God and the Bible and why. Those who are confident in what they believe, and who have honestly thought about what they know, can begin to live what they believe, talk openly about faith issues with others, and have a more enriching personal relationship with the Lord.
Sharp reveals the great need for apologetics to be integrated with women's ministry, and shares her observations of its many benefits. Then, she illustrates some of the ways to get started in bringing together these two important ministries.
When the women of the church have learned to think and study the Christian faith for themselves, they can actively engage each other and non-Christians in thought-provoking conversation: listening, asking questions, and continuously refining their own faiths without fear of not knowing enough, or being proved wrong. My favorite section of the book, in fact, was in how to use questions to listen attentively, and love others, without becoming defensive or overly emotional about defending ones own opinions. In this way, all participants in the conversation are held accountable to what they say and believe, and the conversation becomes a journey for exploring the important issues with more depth.
I am an avid learner and seminary student who is already sold on the high importance of apologetics in ministry, but until reading this, I had honestly not considered that there should be a consistent merger between apologetic study and women's ministry. It is a thin book, but one that has changed the way I think about apologetics, the needs within women's ministry, and even of my own approach to evangelism.
My only criticism is that the cover art does not reflect the freshness of Sharp's ideas and presentation. While apologetics has (among many people) certain connotations of being a stagnant academic field of archaic arguments–somewhat like the statue in the picture–this beneficial manual could be the catalyst for many to begin loving the Lord with all the heart, soul, and mind; and to create a new excitement for living out and sharing ones faith.
I received a complimentary copy of this book from Kregel Publications.