Genre: Devotional/Christian Life
Highly Recommended!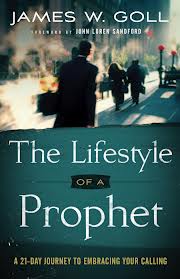 If you are looking for a meaty devotional this would be an excellent choice! I am usually not a fan of devotional books, but this one was so deep that I took the time to read just one section a day rather than rushing through it.
James Goll breaks down the lifestyle of a prophet in three sections: the lifestyle of intimacy, the lifestyle of wisdom, and the lifestyle of revelation. The progression of his teaching guides the reader to connect with God and develop strong character before beginning to intentionally work in the prophetic gifts (or really any gifting). While some devotional books seem to have passages that are only present to meet the required number of days, this one has no wasted words. It is a monograph hidden in popular devotional form. Goll teaches through stories, expounds upon the Scriptures, and ends each chapter (day) with a prayer and introspective questions. (And his questions are really good ones! I found myself learning and growing a lot from my reflection upon the questions alone).
Not only does The Lifestyle of a Prophet teach and direct about the gift of prophecy, it allows readers time and guidance to contemplate their own positions of intimacy with God and activity within their callings. This is not a devotional for those gifted in prophecy only; it is a resource for connecting deeply with Him so that His heart is naturally expressed from the believer's life (and that, essentially is the essence of the prophetic). That said, this is first and foremost a devotional, so the focus is on personal growth rather than being a simple introductory teaching tool.
I received a complimentary copy of this book from Chosen.