Genre: Suspense/Mystery/Thriller
Recommended.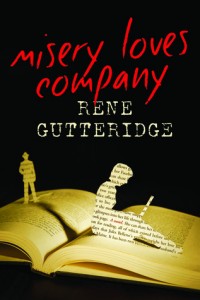 Grieving widow, Juliet "Jules" Belleno, follows a staunch routine with very little outside contact. Instead, she focuses her attention online: blogging, facebooking, and dreaming of publishing her own book someday. But shortly after writing a negative book review of her favorite author's most recent work, he kidnaps her and takes her to a secluded cabin. Upon her disappearance, it is up to her alcoholic father and her husband's best friend and former police partner to locate her and bring her home; but there are many obstacles and some interesting twists along the way.
Rene Gutteridge writes with an edge, humor, and quirkiness that is really fun to read. I'm a big fan of her unique style. The character's are well-developed and come to life on the page, and the story reflects Gutteridge's creativity and distinctiveness.
Misery is particularly special as it is both a suspense novel and a meta-narrative about the writing process. Although I enjoyed the suspense element, it was a bit predictable for me (I read constantly, so maybe I'm just familiar with patterns). The dialog about writing, however, really moved me–I would even say it challenged me to think differently about my own writing process. I did not expect this experience from suspense fiction, which made it all the more enjoyable. I will continue to look forward to Gutteridge's new releases.
I received a complimentary copy of this book through the Tyndale Blog Network.