Genre: Medical Drama/Suspense
Series: Bloodline Trilogy 3
Recommended.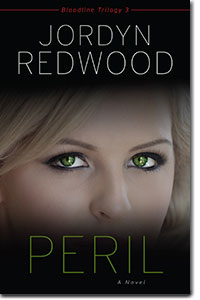 Peril is a medical suspense novel dealing with the strange phenomena of memory transference in organ donor recipients. Morgan Adams is a suicidal pediatric nurse struggling with the challenges of dealing with kidney failure, the toil her health takes on her work and family, and the raw memories of the anniversary of her infant daughter's death. At the same time, Morgan's husband, Dr. Tyler Adams, is involved in some cutting edge research experimentation that does not quite go as expected. The plot twists as patients, a police investigation, fascinating medical conditions, and a high risk hostage situation bring new meaning and thought to some of life's difficult questions, including the lines between morality and science.
This is a thrilling and intriguing story. I especially appreciate that the medical side of the narrative is accurate. The author, Jordyn Redwood not only has twenty years of experience working and teaching in a hospital setting, but she also dedicates her free time to researching medical texts and advising writers to medical accuracy on her blog.
Some of the medical details within the story set my mind reeling and pondering the biblical and moral applications of certain medical procedures. The revelation that organs carry a "memory" also gives me new meaning to the battle between the flesh and the spirit. It has been awhile since fiction has caused me to think so thoroughly, and to ponder such a variety of subjects and applications. I have not yet read the first two books in this series, but am interested in adding them to my collection.
I received a complimentary copy of this book from Kregel Publications.