Genre: Historical Fiction
Recommended.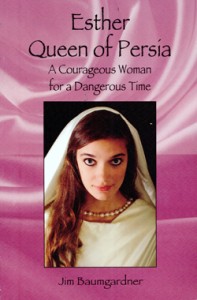 Finally, an Esther narrative that is intentionally true to the historical account! This book is well researched, and the biblical gaps are realistically portrayed to correspond with the foundation of Scripture.
It took me a couple chapters to fully engage with the characters, but then I was captivated. Esther is wonderfully presented as a humble and intelligent young woman in addition to her outward beauty. I wondered if a male author could adequately present the emotions behind her situation–being forced to throw away her dreams of a Jewish marriage to unite with a king who has so many other wives and concubines and who could have even rejected her after just one night of sexual intimacy. Baumgardner's depth into Esther's character, however, is right on the mark. It is a heart-wrenching story that delves far beneath the surface into the complex identity of Hadassah/Esther.
I will say, I don't think the book's cover fully expresses the depth of its content. The cover illustration of Esther is beautiful, but I think would be better presented over a full-sized scene of Shushan with Esther in the foreground–comparing her humility with the pagan extravagance of the Persian empire. The writing itself presents this context well. It is hard not to feel for Esther's situation, and to marvel at her response in the midst of a difficult time.
I was also a little thrown off by an embellishment at the end with integrating the battle techniques of the Chinese. While this addition is historically possible, I thought it distracted from the fluidity of the story, and its focus on the faithful and dependable God of Israel.
Even so, this is the best fictional rendition of Esther I have read thus far. I really enjoyed the historical detail to the 5th century B.C. world, the well-developed characters, and the integration of the Scriptures–not just from the Book of Esther, but from many other books of the Tanakh (OT) that the characters would have been familiar with as an oral foundation for God.
I received a complimentary copy of this book from the author, Jim Baumgardner, for the purpose of providing an honest review.