Genre: Contemporary Fiction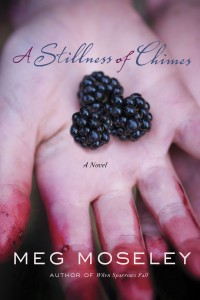 Laura Gantt returns to her Southern hometown to bury her mother and settle the household accounts only to be confronted with rumors that her father–long presumed dead–may actually be alive. As she begins to investigate the rumors for herself, a mystery into her parent's relationship unfolds. Laura also reconnects with her childhood friends, including her former beau, Sean, who is still in love with her and wants to protect her from the physical and emotional chaos surrounding the recent events.
I have read a couple of Meg Moseley's books, and really enjoy her writing. This is a character-based story with so much depth into each personality that it's easy to relate and emphasize with each one. The narrative was intriguing and mysterious and quickly drew me in, even though the plot itself was pretty calm. There were a few times that I would be so caught up in the dialog that I would suddenly notice a scene shift too late and have to backtrack to find when the characters had entered the house, or gotten into the car, or whatnot. Often these scene changes were presumed instead of directly acknowledged, which made me take the occasional pause from the otherwise fluid prose.
I also felt that the end was a bit rushed. The mystery itself eventually came to light, but the depth of the characters and their internal struggles seemed to stop all at once, rather than come to a full emotional conclusion. I enjoyed the story so much only to feel incomplete with its finale. I also think much more could have been made of the spiritual element, which was introduced in the beginning, but not continued throughout. So, I am a bit torn on whether or not I would recommend this one; but I did like it overall.
I received a complimentary copy of this book from WaterBrook Multnomah.