Genre: Historical Fiction
Series: Book Two
Recommended.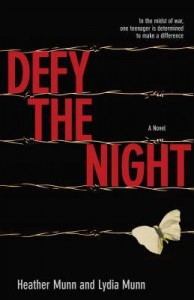 France; 1941. Fifteen year old Magali is living in the "free" zone of Southern France under Vichy rule, and is naive to the dangers and seriousness of the war around her, even though the worst is yet to come. When she is given the opportunity to help rescue children from internment camps and into charity homes through a Protestant refugee organization, she jumps at the chance to be a hero; but her pride and immaturity become a risk to those around her. Magali must learn to become secure and humble in her own calling, to put love first, and not to neglect the value of her friends and associates.
This is an excellently written story filled with depth and well-researched history. The characters are vibrant, and their emotional journeys are raw and honest. Magali, especially, has so much heart and passion, which is often misdirected and careless–but it is a joy to also watch her "come to age" through her mistakes and experiences. As I read her story, I couldn't help but remember some of my own immature moments, and to praise God for guiding me through them.
This is the sort of book I would love my children to read as part of our homeschool curriculum when they reach their teens. It is not only an enjoyable story, but one which is informative, based on true accounts, and which provides the perfect backdrop for teaching and dialog about the progression of WWII, and the Christian responsibility for dealing appropriately with difficult and unjust circumstances.
Defy the Night is also part of a series, but each book is independent, despite some overlap in characters. The first book, How Huge the Night, is the coming of age story of Magali's older brother Julien, and takes place in the first years of the war. The authors also have plans for a third book, which will likely include even more action as the war itself intensifies!
I received a complimentary copy of this book from Kregel Publications.