Genre: Romantic Historical Comedy
Series: Ladies of Distinction, Book #4
Not Recommended.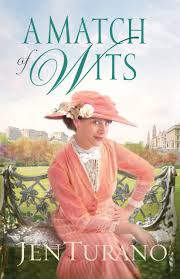 Set in 1883, Agatha is a quick-witted news reporter who naturally attracts dangerous and troublesome situations. (She reminds me just a bit of Amelia Bedelia from the popular children's book series.) When Agatha unexpectedly reconnects with Zayne–a single and handsome man from her past–sparks fly in a match of their equally stubborn natures and evident chemistry.
This novel is simply not my taste. I was intrigued by the book description, unsure about the cover, and plunged into it anyway, only to decide I had made a poor choice for myself.
I still cannot decide exactly why the narrative rubbed me the wrong way because the writing is solid. I think the comedic aspect was just too much for me: over the top, with larger than life characters that were unsettling and even annoying to me. I personally found it difficult to connect with the characters, story, and not-my-style humor; and I had trouble feeling the essence of the historical period.
That said, the story does begin to improve toward the middle as the character and plot focus becomes more settled and concentrated. I imagine readers who are looking for an exaggerated, light-hearted, and cheesy sort of romance and humor would likely enjoy this, even though it was not suitable for my taste.
I received a complimentary copy of this book from Bethany House.