Genre: Writing/Spiritual Life
Highly Recommended!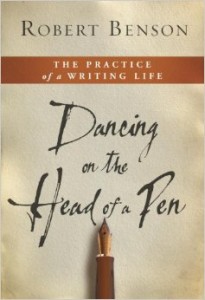 Robert Benson creatively and practically shares from his own writing process to encourage aspiring or fellow writers.
I'm not sure how to describe it except to acknowledge that this is the first book about writing that has been truly inspirational to me. Each chapter is concise and fluid, focusing on a particular aspect of writing (e.g. choosing an audience, or staying dedicated). He shares his wisdom in a blend of practical advice, captivating demonstrative stories, and a moving spiritual essence. It's not a technical book, rather an encouraging collection of insight into his own writing style and process. And it's truly wonderful!! I especially loved Benson's honesty and wit.
The way I approach writing is very different from Benson's, yet this book became a sort of muse for me–inspiring me to pause from the reading to do some writing of my own. I also picked up several new ideas from him that I will likely incorporate into my own methodology. It's a book I can see myself re-reading as I need encouragement; and one I'd highly recommend to all my writer friends.
I received a complimentary copy of this book from WaterBrook Press.