Genre: Christian Living/Spiritual Warfare
Recommended.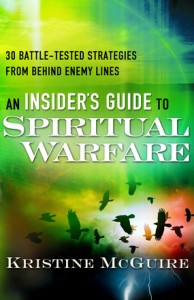 This devotional guide to spiritual warfare is engaging and approachable. Separated into 30 short chapters, Kristine McGuire shares openly and candidly from her apostate experience as a practicing witch. Now a born-again believer, she outlines the basics of the spiritual battle, the armor of God from Ephesians 6, several of the most common battlefields (e.g. suffering, fear, and anger), and how to relate to God and the supernatural within our identity in Him.
McGuire writes in the style of oral language, which makes the grammar a bit "creative" at times, and I admit to having been slightly distracted by this. However, her sweet and honest tone make her words come to life as if she were presenting live to a friend, and some readers may even find this style more engaging and relatable.
Having experienced the occult myself, I also think she could have gone into more detail regarding the nature of the spiritual battle as it overlaps with the physical realm–but maybe this would be better in another separate book.
Finally, the reflection questions at the end of each chapter are particularly good, and would make an excellent outline for a discussion based study group.
I received a complimentary copy of this book from Chosen Books.