Genre: Autobiography/Social Issues
Highly Recommended!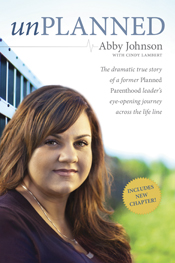 This is one of the most moving biographical testimonies I have read!
Abby Johnson's passion for helping women prompted her to volunteer with Planned Parenthood, where she eventually became the director of a clinic in Bryan, Texas, counseling and aiding hurting women–and yes, aiding in abortions as well. She even had a couple abortions herself.
It is an exciting miracle, then, when God progressively transforms her heart to recognize the harm and injustice of abortion, despite her good intentions, and to confront the lies she had believed about abortion being a helpful and viable option when God has better plans to make all things good–even in the most difficult situations.
Her testimony is powerful, vivid, and emotional; sharing honestly from both sides of the pro-choice/pro-life conflict. This is a difficult topic, but I felt the story was balanced in revealing the good and the bad from both sides of the "fence" (e.g. the pro-choice love for women that may be unexpected from a pro-lifer, or some of the hate-filled methods of protest by the pro-life crowd). In eventually partnering with the "enemy" (the Coalition for Life), Abby finds God's love, and begins partnering for social justice in God's way. It is truly a remarkable story; and the new ending in this revised version is exciting for the pro-life camp!
I received a complimentary copy of this book from Tyndale House Publishers (it is co-published with Focus on the Family).