Genre: Historical Fiction/Mystery/Romance
Recommended!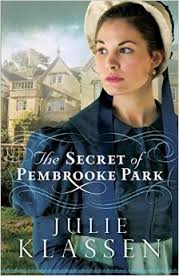 Abigail Foster is practical, intelligent, and worried she may end up a spinster when the man she has admired since their childhood seems to have eyes for her younger, prettier sister instead.
When a bad investment forces her family to look for a more affordable living arrangement, an interesting opportunity arises for them to rent Pembrooke Park. The manor has been abandoned for many years, and is rumored to be haunted and to hold treasure in a secret room.
The narrative twists and turns through mysterious happenings and suspense, love triangles, strange neighbors, long lost family members, formal parties, hidden secrets, and a very real treasure. The story and characters are so engaging, I hardly noticed the 450 page length as I read through it quickly.
There is a direct faith based message, which I felt was slightly awkward toward the end as Abigail seemed to jump from non-practicing Christian to preaching Christian without enough spiritual build-up. Even so, the message is a good one. It's not overdone, but could just use a better transition, and the strength of the overall narrative makes up for it. The complex mystery is fun to read, especially as it becomes a meaningful illustration of faith and God's love.
I received a complimentary copy of this book from Bethany House.