Genre: Juvenile Fiction/Historical Romance
Series: Valiant Hearts, Book One
Not Recommended.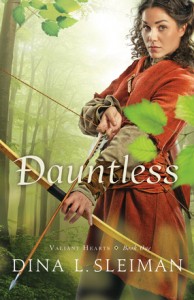 Merry Ellison was raised as the daughter of a Baron, but now she is the fearless leader of "The Ghosts of Farthingale Forest"–a group of bandit children who have been outlawed due to their parents' crimes, and who now survive in the forest by stealing from the wealthy. Before going into hiding, Merry had been engaged to Timothy Grey, who now works as an assistant to the local earl, in service to the King. When their lives re-connect, they must each decide where their loyalties lie, and allow God to direct their futures.
I took a class on the mythology of Robin Hood as an undergraduate, and read tale after tale of various legends written mostly in Middle English and/or Early Modern English, so the idea of this kind of story was really interesting to me, especially with a strong female lead and Christian perspective.
I felt like the narrative was missing the expected edge. I cannot explain my disconnect, except that the tone seemed off. Merry seemed a bit soft, and too emotionally driven. I did not like the love triangle, which I felt was cheesy, distracting, and put Merry's focus too much on romance and not enough on her strong female identity (not that strong females are not also emotional and romantic, but that there should be more depth in addition to those elements). I also struggled to connect with the characters in general.
The theology was also interesting. The question comes up regarding whether stealing and violence are sins, or to be precedented in certain situations. The novel presents the latter, but I was a bit uncomfortable with this considering the young adult audience. I did like the second theological message that God is always with us, even when we are not with Him.
This is a story with lots of potential, but it did not come together for me as well as I would have liked. I do hope there will be more Christian stories written within this genre and time period.
I received a complimentary copy of this book from Bethany House.