Genre: Christian Living/Inspirational
Highly Recommended.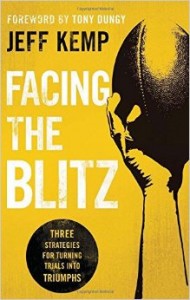 Retired NFL quarterback, Jeff Kemp, shares wisdom and encouragement about facing life's trials using metaphors and wisdom from his football career and experience. He focuses especially on the biblical principle of gaining a right mindset, which will then influence our thoughts, actions, interactions, and choices. And I also greatly appreciated his wisdom on investing in others and choosing to be team oriented rather than focusing on oneself by consuming.
As Kemp details each of his tips for success in life, he shares personal stories full of wisdom, followed by very practical self reflection and application. This book is truly motivational, without the "fluff" that some inspirational books have, and I felt that the activities and reflective questions were helpful and right on point.
As I have been battling through my own (health) blitzes, I have been hearing God prompting me toward many of the same things Kemp highlighted. For instance, recognizing that I can trust God and can choose to change my perspective to His perspective by accepting where I am now, and letting Him take me forward into the new things He would have for me, rather than focusing in grief on the past things and dead dreams, which are out of my control. I found so much of this book personally encouraging and life-giving, even if some of it I had heard before (whether through my own athletic experience, or through spiritual teachings). There truly is something healing about being able to focus on the solution (Jesus, and what He is doing), rather than the problems and needs at hand.
I also loved Kemp's application of recognizing the family unit as a team, whereas each spouse chooses to invest in each other and their children. He expresses these truths simply, boldly and practically; and I think any football fan or athlete would relate well to his analogies.
I received a complimentary copy of this book from Bethany House.