I have been at the Bethel Healing School this week in Redding, CA, and it has been awesome. People are here from all over the world learning how to rest in God's love and allow Him to bring healing in and through them.
I had a surprise healing gift on Wednesday night. I had started loosing my hair in big patches earlier in the seminary semester while I was still in class. I am still not certain the cause–if it was stress related or something else (I think the latter, although I was too stressed to see yet another doctor; haha. My "internet guess" is Alopecia Areata because of the formation of the spots.). It started as a few small patches, and grew into larger patches. I have had much bigger health issues to worry about, so my hair has not been on my mind as a major need except for remembering the loss as I am brushing it in the mornings. I have had to change my part line because of the largest patch (about the size of a quarter), which is near where I would typically part my hair. The lack of hair has also felt like an indentation, so I have been reminded if I touch my head.
Anyway, during last night's healing session someone had a "word of knowledge" (spiritual wisdom) that God was going to heal baldness right then (many other words were also given, and many others received healing for their needs). I stood to receive healing, and a gal standing behind me prayed over me for this and my other issues. Suddenly, sprouts of hair grew where there had been nothing before. My hair is growing back! Yay Jesus!
Ironically, I had felt compelled to take a picture of my missing hair in the hotel on the way to the event that day, because I thought maybe I would be healed soon. So, I have pictures.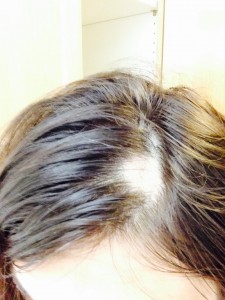 The first picture has a bit of a glare from the bathroom light and morning sun (my head is not really so white, but there were no hairs except a couple full length ones from the center of the patch).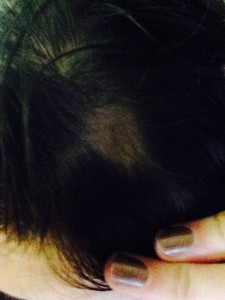 The second picture is the same day when I arrived back to the hotel in the evening after sunset, and it is thus a little too dark, but shows the new growth well nevertheless. So, although both pictures are unintentionally exaggerated because of the lighting, I think you will get the idea: missing hair, then small spiky new growth! It is because God loves me.
Do you know God loves you too? His love is not connected to what you do. Healing is a free gift, just as salvation is. He heals because He loves. He redeems because He loves. Not being healed does not mean lack of love, but is an invitation to press in deeper–and that is what I am doing with my other health issues.
If you need healing, may Jesus heal you now. Be blessed. 🙂