Genre: Historical Romance
Highly Recommended!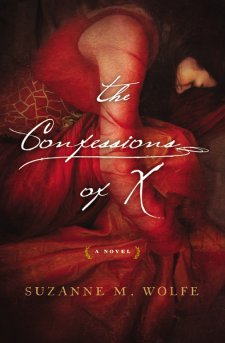 St. Augustine of Hippo wrote an autobiographical work called Confessions; and within this he mentions his pain in parting with his concubine, whom he loved dearly. The Confessions of X brings to life a fictitious rendering of this anonymous women's story–her own autobiography unknown to history, yet having made a permanent impression on Augustine who thus influenced the early Christian world. The historical aspects of the book are well researched, and the author's minor liberties with the factual account and chronology achieve her goal of dramatic storytelling without taking away from the historical richness.
Truly, this is one of my favorite narratives of the year as the characters touched me–even to tears, which is very rare for me while reading. It is a brilliantly written novel that captures the human condition, and reaches the soul, while also providing a poignant doorway to Northern Africa and Rome in the fourth and early fifth centuries.
Augustine was not a Christian until later in his life, and this is not a "Christian" novel in the tradition of lightheartedness and censoring, but an honest one that tells the truth in every detail: not shying away from pagan worship, sensuality, the brutality of the games, or the pains of childbearing, illness, and loss. The poetic writing evokes the emotions and brings each setting to life–for better and worse, and however graphic to the mind and senses.
I was most touched by the exploration of human and divine love, and was left with a greater sense of Jesus' love through the multi-faceted metaphor of these characters' lives, and the impossible choices they make along the way.
I received a complimentary copy of this book from Thomas Nelson.